Dreams Really Come True: Jennifer Allen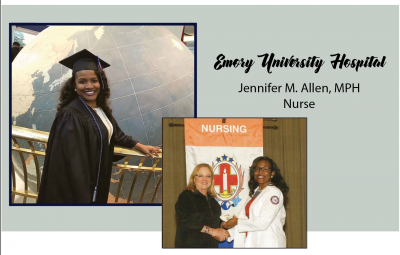 "I always thought I wanted to go to medical school, said WIOA training participant Jennifer Allen. However, she quickly realized her true passion was not medical school specifically, but finding the opportunity to help others.
Allen had her "Ah Ha" moment while job shadowing at a physician's office. While working she met a nurse practitioner. She was intrigued with her job and that chance meeting prompted her to learn more about the nursing field. She researched some programs and eventually enrolled in an accelerated nursing program at USA. "Once I was started the program I knew it was the right career move. This is where I should've been from the beginning," Allen said.
Her training was intensive. "It's like getting your degree in a year," Allen explained. "It was a lot of long hours, but very rewarding." A typical day would consist of class from 8 a.m. – 4 p.m., working, studying until the wee hours of the morning, writing papers and clinicals. "You must be dedicated in order to succeed," she said.
"Allen further elaborated that it takes a special person to succeed in this field. "I like helping people and the body is so interesting and to do both (helping and serving others) is amazing," Allen said.
Interestingly, she was completing requirements for her master's degree in public health when she had a chance encounter with a nurse practitioner. That moment changed the trajectory of her life. Since that meeting she became a registered nurse and is excited about the future.
Her future plans include merging her training as a nurse and with her training in public health administration to serve her community, especially those in underserved areas.
Back To Success Stories