New Job. New Career: Cody Flores
New job. New Career.
After years of working temporary jobs, Cody Flores finally has some stability. "I Love it. I really like my new job," says Flores, trainee technician at Retting's Auto Body Shop. "I went from painting houses to painting cars and learning the ins and outs of the auto industry." Flores' training program included identifying the necessary tools for specific jobs, preparing estimates and assisting in repairing vehicles and replacing parts. He learns something new daily and the job involves a lot of math and attention to detail, according to Flores.
Retting's Auto Body Shop has been in business for over 40 years. They repair damaged automobiles, do quality inspections and provide superior service, according to body shop manager, Bob Allen. When presented with the opportunity to hire a worker through the OJT program, Allen describes it as a win-win for all. "We got an outstanding worker, he's a go-getter," Allen smiled as he described Flores. "His warm personality and willingness to learn the trade has made training him a delight."
After five months, Flores has completed the training phase of the program. He's now an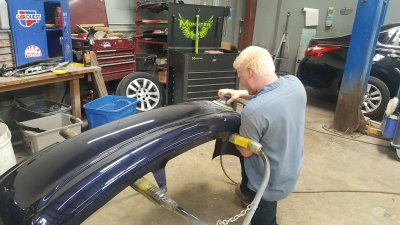 auto body technician. He's excited about his new career and looks forward to a bright future. "The supportive staff and working environment has made this journey worthwhile. I get to work with my hands and learn something new every day, Flores said."
Back To Success Stories